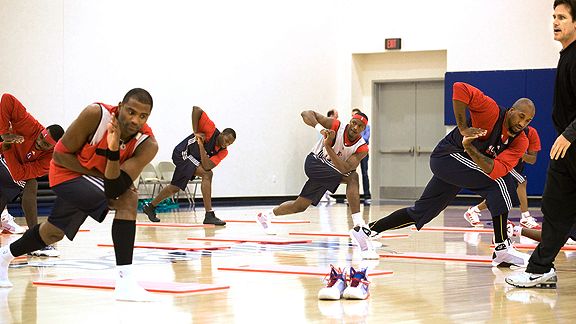 My husband sent me this great article on Kent Katich, the Los Angeles Clippers' "yoga coach." More and more athletes and sports teams are turning to yoga to enhance their balance, flexibility, strength, prevent injuries and develop deeper inner focus and concentration. As yoginis we know nothing does all of that better then yoga and I am so glad to see more and more athletes developing a passion for practice.
Here is a little bit from the article:
The impact of yoga on players is difficult to quantify. The positive results from downward-facing dogs, half-moons and warrior poses are not the kinds of things that show up on stat sheets or box scores. But the players who train with Katich swear by him.

"Going into my 11th year in the NBA, I feel as though the work that we've been doing has allowed me to regain my youth," Davis said. "I believe if I can continue to master this art, then I can have a very long career in the NBA."
You can read the rest of the article by clicking the link below:
Special to ESPN Page 2